Maria asked me,
I was asked why I didn't knit to sell when I was unemployed during the worst of the great recession. I said it was because nobody I knew could afford $500 sweaters. I don't design, so there's also the issue of using others patterns, which nobody got, either.

I think it's most economically feasible to sell patterns to knitters rather than hand knit garments to non-knitters. Have you tried figuring out how many patterns you'd have to sell at, say, $8 to break even for designing one?
And that's the entire point of this mini series on cost estimating my projects.
Let's review one of my more successful single patterns: Kitty Selbu. This mitten pattern was inspired by my cat's healthy scare. (Note: we lost the kitty, eventually.) The pattern sells in my Ravelry store for $6.00. For simplicity's sake, let's look only at the Ravelry sales, which accounts for the vast majority of my single pattern sales.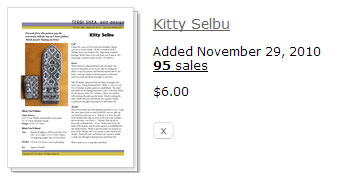 I have grossed $570 in Ravelry sales on this pattern since November 2010.
I have made many pairs of Selbu mittens, so I can, from my experience and the time tracking I performed on the mitts, estimate that I spent about 30 hours labor on these mittens, and an additional 3 hours in photography, layout, and publishing. At my bare minimum wage, that's an estimated $330 invested in the creation of this pattern.
Leaving aside costs that a business would normally need to include, such as office space to work in, electricity to run the lights and computers, and so forth, I can then calculate that I have profited $240 from the sale of this one pattern. Since November 2010.
So to answer the basic question, I would need to sell 55 patterns at $6 to break even.
This begs the question: what is a pattern worth? How much can I charge for a pattern, to increase my profits, before I drive away sales with a too-high price tag?
Let's do some more competitive analysis. This time I'm focusing on patterns, and for that, I go to Ravelry.com.
This table contains the top nine most popular for-sale mitten patterns.
Fiddlehead Mittens
Adrian Bizilia
$5.95 stranded fingering weight
Cloisonée
Stephanie Pearl-McPhee
$5.00 colored cuff, plain hand worsted weight

Waiting for Winter Mittens & Fingerless Mitts
Susan B. Anderson
$4.00 basic worsted weight mitten
Horatio and Oren
Barbara Gregory


$7.00 stranded fingering weight

Grove
Jared Flood
$6.00 textured worsted weight
Mitered Mittens
Elizabeth Zimmermann
$7.95 in Knitter's Almanac texured worsted weight
Northman Mittens
David Schulz
$5.95 stranded worsted weight
Sitka Spruce
tincanknits
C$6.00 textured worsted weight
Wood Hollow Mittens
by Kirsten Kapur
$6.00 textured worsted weight
These are the most popular for-sale patterns. There are several ways I can interpret this review. $6.00 seems to be a reasonable price for a mitten pattern.In fact, it's fairly median.
Another observation is that most of these patterns are worked in worsted weight yarn, and decorated with a texture pattern rather than colorwork. People buy what they want, so knitters apparently prefer textured mittens at a larger gauge to fine stranded work.
But there's a larger point that only reviewing for-sale patterns completely overlooks.
Of the top 25 mitten patterns on Ravelry, only nine of them cost money. The other 16 are free.
I can surmise from this that knitters are willing to pay a small price for a pattern that suits their preferences – textured worsted weight – but most would choose a free pattern over a paid one. In fact, only seven of the top twenty five used colorwork in any technique at all, aside from very large stripes or self-striping yarn, and of those, only four used stranded knitting.
My patterns don't even show up in the top 100 most popular designs.
So why is that?