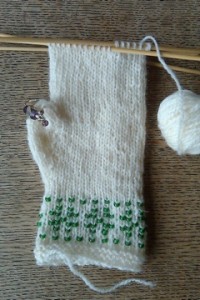 I had to rip back a half inch or so, because I got too excited over the side thumb gusset. All those Selbu mittens, with the thumb gusset set onto the palm. Beautiful, but I think side gussets are more comfortable. They match the anatomy better. How many people do you know with thumbs sticking out of their palms? About as many as I do, which is to say, none.
Details on this mitten. It's worked in Rauma Finnullgarn, which is a beautiful yarn from Norway. It's similar in grist to jumper weight Shetland, but the hand is completely different, especualy after you wash the garment. Shetland has a dry, crunchy, sandy texture, but Finullgarn is more like crispy bread crust. I'm using 2.75mm Clover bamboo needles. I like to carry knitting loose in my handbag, and metal needles fall out too easily. And I think I clench metal tighter than I do wood or bamboo; my hands hurt after an hour of knitting. I just prefer wood to metal. Inhaven't measured my gauge, but I would guess I'm getting 7-7.5 spi over straight stockinette, and maybe 6spi over the beaded cuff.
In case you ever wondered, Designs By Romi shawl pins make excellent emergency stitch holders.
What are you knitting?