So you know I've been hitting the stranded knitting pretty damn hard. I'm taking it easy today, because I'm waiting for my book proof, and the domains are all moving to a new host, and there's just not much to do but wait. Do I pick up one of my WIPs and get to work? Of course not.
I rummage around for some plain white wool, and some beads. I've never done beaded knitting. Never really interested, except that one time I put beads on the bind off of a small garyer stitch shawl. (oh, I knit that. I'll show you some time soon.). But for some completely off the wall, out of the blue reason, I have to mix my beads with my yarn. Crazy, I know.
I wanted to demonstrate some Other Ways to use charted designs in knitting. That's what I wanted to do. So I pulled up a page of small motifs from my mitten design class, and cast on 36 sts in some natural white Rauma Finnullgarn. Joined in the round, two garter stitch ridges, and off I go with the beads. It looks like this.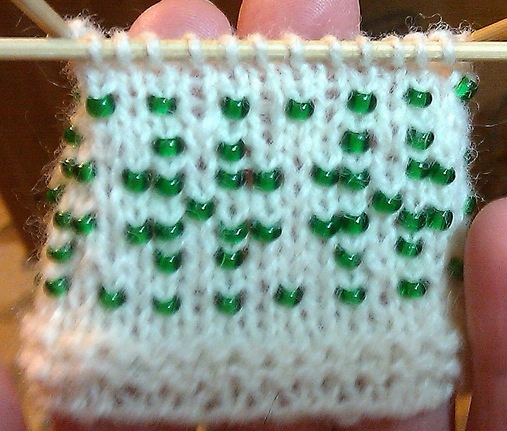 A row of tiny little selbu roses, with seeded border. I was wondering what the piece would be. It's too small for my wrist, and I don't wear wristlets much these days. I don't want a cozy for my phone, an anyways, the beads would probably just scratch it. But it's just the right size for darling Heather. A perfect mitten cuff, in the perfect size.
And then I start to imagine giving her a pair of creamy white mittens with green bead stars on the cuff, and what her reaction might be. Great, Mom, just in time for spring, she mit snarl. Or, would she just wear them to play in the mud, and ruin them? I started a pair of stranded mittens for her last year, beautiful bright red Selbu tulips on a grey heathered backfround. I even wrote the pattern and listed it in Ravelry. But her second mitten is still half finished, and I've knit on a half dozen things while she has waited for her special mitts. Does she feel unimportant?
Or maybe, I would wrap them in pretty gold tissue paper, tied with a bow, and she would carefully open the package, and sigh as she slipped her little hands into them.
And at that mment, as I'm slipping the last bead into place, I start to miss her so badly that my head aches and I can't see straight, but I WILL NOT cry again because she is at her dad's house this week. I have given up self pity for Lent.
So now, instad of a nothing sample to keep me occupied while I wait, I have a pure and evergreen sign of my love for this amazing chld I'm privileged to call my daughter. And I know she's only ten, but I think she knows that when I make her something, it's an expression of love. She keeps the Gir hoody I made at her dad's house, but brought the granny square afghan back home.
I will finish both pairs of mittens. With luck, before she gets back Sunday night.