I've been asked recently if I sell my handknits, and how much they would cost. I don't and I don't know how much, so I decided to find out.
First I installed this wonderful iPhone app, Timewerks, written by a former colleague.  It's an adaptation of the time tracking package we used when we worked together at the webdev shop. He wrote the original, and the company then rewrote it and sold it (I think) and then he wrote a new version for the phone.
I spent a few minutes on configuration, creating the kinds of tasks that I perform when designing and writing a pattern, then knitting the sample. I want to be able to differentiate how much time is spent doing what. I set an hourly rate of $10/hr, just as a simple rate. It makes the math easy. In the future, I can create additional tasks with higher rates. I can even set multiple tasks with multiple rates, so I can "charge" projects at different rates for the same task. The skill required to design a stockinette cardigan is different than the skill required to design a fair isle pullover, for example, and it would be fair to charge different rates.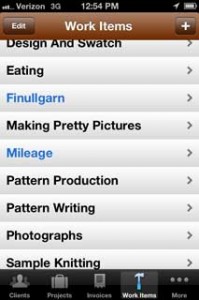 I also created billable items for the yarn I am using, 2 balls of Rauma Finullgarn.
Then, I used the Add Hours feature to add in the estimated the time I'd already put into writing this pattern. After that, I used the timer feature to calculate my time spent as I knit.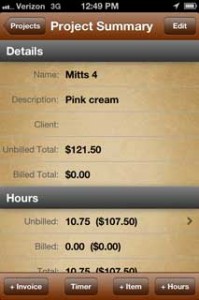 In design,  pattern writing and chart creation, as well as sample knitting, I have spent 10.75 hours. I have also used two balls of yarn I estimate to cost $7.00 per ball. That's a total of $121.50 in opportunity cost that I have invested in this design.
So what does that get you?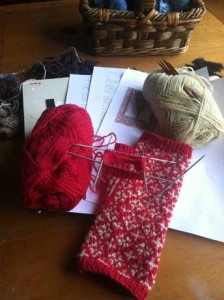 One mitt and ribbing, and a few pages of pattern, roughly produced.
What can I learn from this?
First, I need very wealthy clients to buy my handknits. And that's why I don't list them on Etsy.
Second, I can knit a single mitt in ten hours, which is comparable to the old Selbu knitters, and that makes me smugly satisfied.
I'll need to use the system for several to many projects before I can see trends. How much of my time is spent pattern writing, as in the text versus charting? I have to create separate items for them, and I have to use the system regularly. It's a nice way to keep track of progress, though.
I can get actual data describing my time, as a professional, on my own tasks, so that when I hire someone, or hire myself to knit or write or tech edit for someone else, I know what to charge.
Update: Here's one way to use my time estimates in making business decisions about what products I want to make and sell. How much can I sell it for?