Or, Mining Etsy: A follow up to my previous post.
After calculating the cost in time and materials to create a simple project, like the pair of mitts, I started thinking. How much effort do I need to put into a knitted item, to receive a decent price? If I am going to invest 20 hours, or 40 hours, what kind of item would it need to be, to motivate someone to spend their hard earned money on it?
I've already calculated my rate at $10/hr, for the sake of argument. So I went back into Etsy and looked around.
My initial search query was simply, "handknit," and this pulled up a standard results page with over 19,000 hits.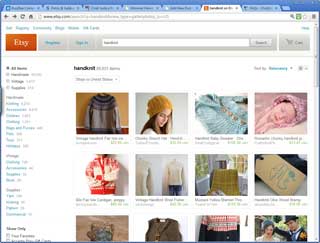 But I'm not just interested in what sellers are listing. I want to know what they're selling, and for how much.  I sorted the results by price, highest first, and started clicking into each item.

Each item page has a box about the shop, which is generally the artist him or herself. This profile includes a feedback line, which links to every feedback the seller has received, good, bad, indifferent.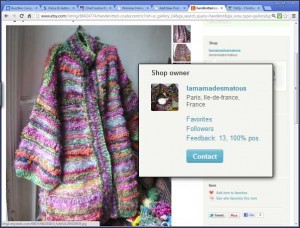 This is the data I want to find. What are buyers actually buying? Here is a crop of the feedback page for the above seller.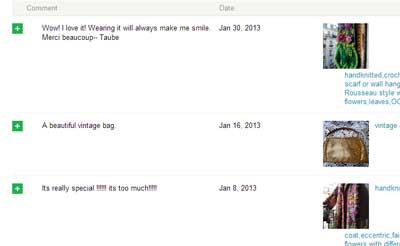 The item page doesn't display the price it was actually sold for, only that it was sold.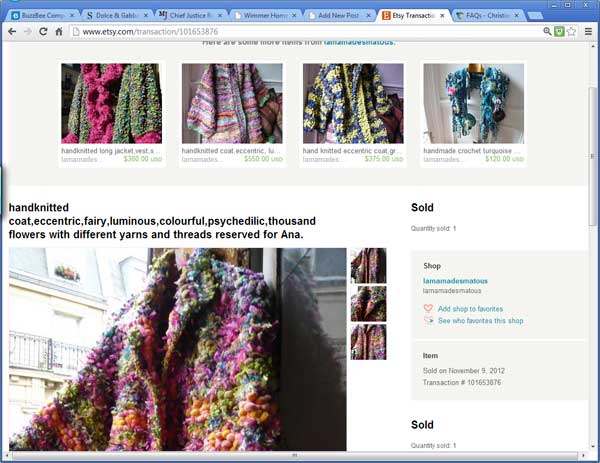 But if you look in the display ads above the main product image, you see similar items from that seller which are currently listed, and from that we can estimate what this item sold for. Comparing it to the other jackets shown above, I figure she probably got around $500 for this scrumptious bit of fluff. Not bad work, as it is probably knit at 2.5spi, which means she could get through it in a few days.
I spent an hour or so, clicking through the listed items, then to the seller's feedback page, and then to the sold items, then comparing them to similar items currently for sale. Here is a short list. You'll have to copy/paste the links.
—
http://www.etsy.com/transaction/100644624
Cotton dress $450
http://www.etsy.com/transaction/101435560 – short sleeved women's pullover, some stranded, chunky gauge $140
http://www.etsy.com/transaction/93398375 – long sleeved women's pullover, linen stitch? or tuck stitch $250
http://www.etsy.com/transaction/97728698 – crocheted shawl, large squares, wool $115
http://www.etsy.com/transaction/92666659 – plain socks. $39.50
http://www.etsy.com/transaction/101653876 – ultrachunky multicolored, textured coat. ~$550
http://www.etsy.com/transaction/67861536 – mitts in simple stranded patt. $50
http://www.etsy.com/transaction/92909982 – 57×74″ afghan, Bernat acrylic $380.
she has sold several (15 in feedback)
http://www.etsy.com/transaction/114437232 – Silk merino lace cardigan, sport or DK weight $220
http://www.etsy.com/transaction/103968767 – aran coat, worsted weight. $360
http://www.etsy.com/transaction/98946720 – simplified aran pullover $240
http://www.etsy.com/transaction/98015856 – chunky seed stitch cardi $275
http://www.etsy.com/transaction/91034305 – short row garer cardi, chuncky $220
*many* sales, items and patterns
http://www.etsy.com/transaction/96488230 – traditional cowichan. $350
http://www.etsy.com/transaction/91420980 – cashmere wool shawlette, lace.
she has many sold items, but they seem to be from commercial patterns or one-offs. Price range $~85-300
—
What can I conclude from this very brief survey?
First, that people do sell handknit items for several hundred dollars. And not one or two, but many. So there is a market.
Second, that like a sensible knitter, these items seem to be knit at a larger gauge. That makes faster work, and so you can produce more items to sell.
Third, that sellers seem to devise a pattern or a line, and then make those things only. I haven't seen sellers making a random assortment of items. Either it's sweaters, with a few accessories in similar patterns and yarns, or like the funky coat above, a single style of garment, in a range of colors, where the garment shaping is secondary to the effects of the yarn.  These sellers treat their online store like a business, with a specific product range, which is repeated.
Producing the same thing over and over again might not sound like fun for a hobbyist, but this is exactly what the old Selbu knitters also did: specialize in a small range until you get very good at it, and then your increased speed will improve your overall production quantity.
So what about the pieces themselves? I found a lot of classic styling offered for sale, but the things that people bought were funky, outrageous, bright, bold. Things you can't find in a store.  If you want to knit couture, you have to make  something that can't be found in the mall.
The exception to this rule was an Italian knitter whose pieces are very elegant, with classic shaping and easy yarns. Her work appears to be worsted weight, and worked a little loosely.
And the other knitters I surveyed today? Also largely outside the US. I found one or two people selling a few pieces from San Diego or the south, but most of the sellers were from other countries.
Etsy can provide a wealth of information, if you can spend a little bit of time mining the data the old fashioned way. By hand.