The first copies of Norwegian Knitting Design arrived today. My printer made a special 45 minute trip to deliver about 250 copies that I can ship to my retail buyers while we wait for the special ordered case boxes from the manufacturer. Self publishers, or even if you've ever considered self publishing, call Vincent at Snohomish Publishing. He is terrific. Preorder buyers, I should have all orders shipped next week. Thank you so much for your support.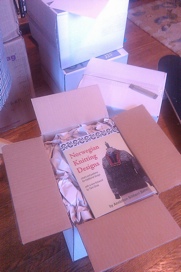 Norwegian Knitting Designsis a smallish book, about 7X9″ but packed with amazing charts taken directly from traditional Norwegian knitters. Please order your copy today and help continue this wonderful tradition.
I'm exerpting and updating a beautiful sweater pattern from NKD for Piecework Magazine. My book sample is beautiful, but I didn't really follow or write a pattern. I just winged it. I'm knitting another sample and documenting what I do this time. I believe this design, first published in URD Magazine, a Norwegian publication, is the first documented pattern for a top down yoked sweater. I have read rumors and seen photos of the Knitting Madonnas, knitting Jesus' seamless garment, and it is shown as a sweater knit in the round. If anyone knows more, I'd love to hear from you.